news
Everything You Need to Know About Multi-Family Housing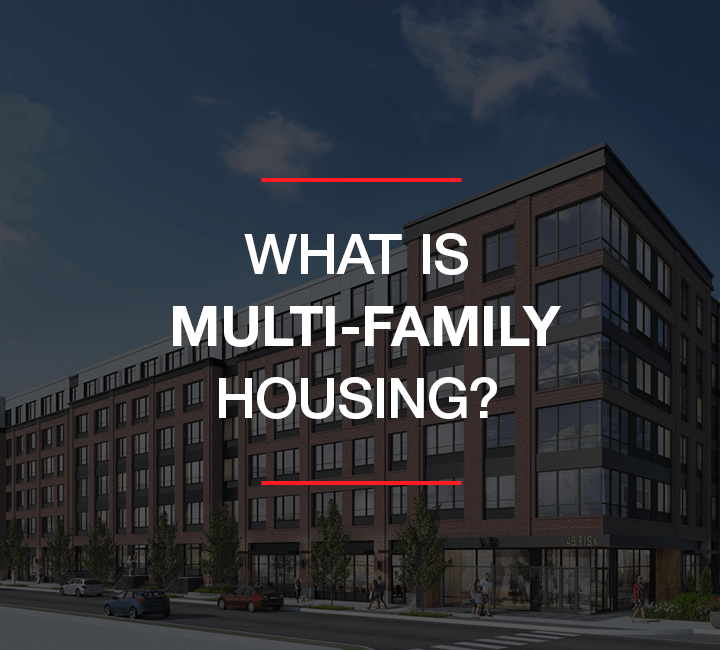 11/16/2022
What Is Multi-Family Housing?
For many households in the United States, multi-family housing is the solution to their housing needs. With an increasing demand for rental housing and the value of multi-family lending surpassing $487 billion in 2021, the multi-family market is booming. This exponential growth has led many developers and investors to consider the value of building new multi-family housing constructions.
Multi-family housing can be an effective way for investors to generate passive income — indeed, the future prospects of multi-family construction are rated well and on an upward trend. If you're considering building a multi-family home, understanding the benefits of multi-family housing and considerations for building can help you decide whether to invest.
What Is Multi-Family Housing?
Multi-family housing is a type of residential accommodation containing multiple units or several such buildings within a complex. These residences are designed to house several families on the same property. Units may share multiple interior walls and entrances, and multi-family housing frequently provides residents with amenities like maintenance services, common areas and pools. This housing may include two units in the same structure but U.S. law requires that these accommodations have at least five housing units on the site.
Most renters believe renting is more affordable than owning a home, making this type of residence appealing to those with lower incomes or who are saving money to purchase a house.
According to a recent National Multifamily Housing Council study, 47% of renters are under 30 years old, while another 24% are between 30 and 44 years old. However, multi-family housing may appeal to a wide range of people, including single people, young families, older couples and more. Some multi-family properties restrict residents to a certain age group or only cater to students.
Multi-Family Home vs. Single-Family Home
Whereas multi-family housing includes several separate housing units, single-family housing only consists of one unit. Understanding the possible advantages and disadvantages of building multi-family or single-family housing helps potential builders and investors make more informed decisions.
Pros of Multi-Family Homes
The pros of building multi-family housing include the following:
Higher cash flow: Although multi-family housing generates greater expenses than a single-family home, multi-family housing can potentially bring significantly higher returns through monthly rent payments from multiple tenants.
Potentially easier financing: Some banks and lenders might view multi-family housing as less risky because it brings in more predictable cash flow than single-family housing, and a vacancy impacts rental income less.
Cons of Multi-Family Homes
Building multi-family housing could also bring a few challenges:
Cost: Recently increasing labor and materials costs have caused a surge in construction costs for multi-family properties, often in the millions of dollars.
Maintenance: Maintenance for multi-family housing is often quite involved since a single apartment complex could have hundreds of residents. Apartment complexes are usually overseen by property managers and have a dedicated maintenance team.
Pros of Single-Family Homes
Compared to multi-family homes, single-family homes offer some benefits:
Lower price to build: Since single-family homes are typically smaller than multi-family homes, the cost of investing and constructing is usually lower.
Less involvement from the owner: A single-family home requires less maintenance than multi-family properties because there is only one tenant.
Cons of Single-Family Homes
Single-family homes may also have a few cons:
Lower income: If you're looking to significantly boost your income stream, building and renting a multi-family property offers a better chance because of the higher number of tenants.
Vacancies impact return on investment: A vacancy in a single-family home means the owners have zero rental income until they find a new tenant, whereas a vacancy in multi-family housing still leaves the income from the other tenants.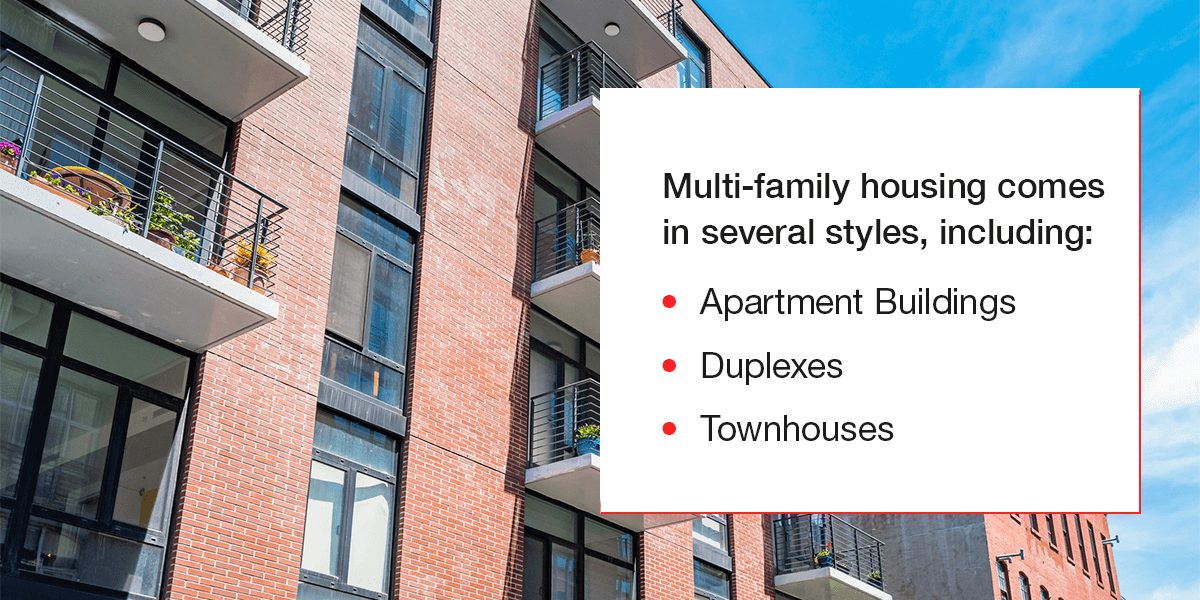 Multi-Family Home Examples
Multi-family housing comes in several styles, including:
Apartment Buildings
Apartments typically have at least five dwelling units in the same structure and are often part of an apartment complex. Some multi-family apartments have hundreds of units within the same structure. Residents may share entrances and other amenities like a pool, playground or common area.
Duplexes
Duplexes contain two separate units in the same structure and may have a shared entrance. These housing units are typically stacked or only share a single wall on the same level. Triplexes are similar structures containing three housing units instead of two.
Townhouses
Townhouses include multiple dwelling units in a row, where each unit shares a wall with the units beside it. These residential structures may have two or three floors and typically have more square footage than an apartment unit.
What Are the Components of Building Multi-Family Homes?
The components of building multi-family homes are similar to the components of other commercial construction projects. A multi-family housing construction project generally goes through five stages:
1. Development and Planning
The development and planning stage of a multi-family housing construction project creates a framework that guides the project to successful completion. In this stage, you'll choose a location, set a budget and select a general contractor or a design-build firm.
2. Preconstruction
The preconstruction phase involves obtaining the proper paperwork for construction. In this stage, a design-build firm may create more concrete cost estimates, drawings and potential schedules to help you understand the project's scope. The design and construction teams might complete final site assessments to prepare for construction.
3. Design
Once final site assessments are complete, the architectural and engineering teams create detailed schematics for the multi-family housing project and ensure the building will meet code requirements. This step involves planning the building's plumbing and HVAC systems, electrical supply and systems like parking.
Developers and architects consider several elements in the design phase, including:
Aesthetics
Efficiency
Affordability
4. Construction
The construction stage sets the planning into motion. Construction may be able to begin before the design phase is completed as long as the design-build firm has already procured the materials. Working with a design-build firm is especially helpful at this stage. Design-build firms can move a project along the timeline significantly faster than general contracting because they collaborate between teams to accomplish each step more efficiently.
5. Post-Construction
After construction is complete, the design-build firm provides an overview of the project to verify that every aspect has been completed.
Contact JRM Construction Management to Optimize Your Multi-Family Housing Project
Building multi-family housing can offer several benefits, such as a consistent stream of rental income. As you consider building multi-family housing, choose JRM Construction Management as your partner throughout the process. Our construction experts have the project experience and focus on integrity to provide superior strategizing and complete each project to a high standard of excellence. Our unparalleled approach to construction management has helped us complete projects on time and on budget for our clients across New York, New Jersey, California and beyond.
To view our work, browse our multi-family residential projects or contact us for more information or to discuss a potential project.