news
Core and Shell Construction Guide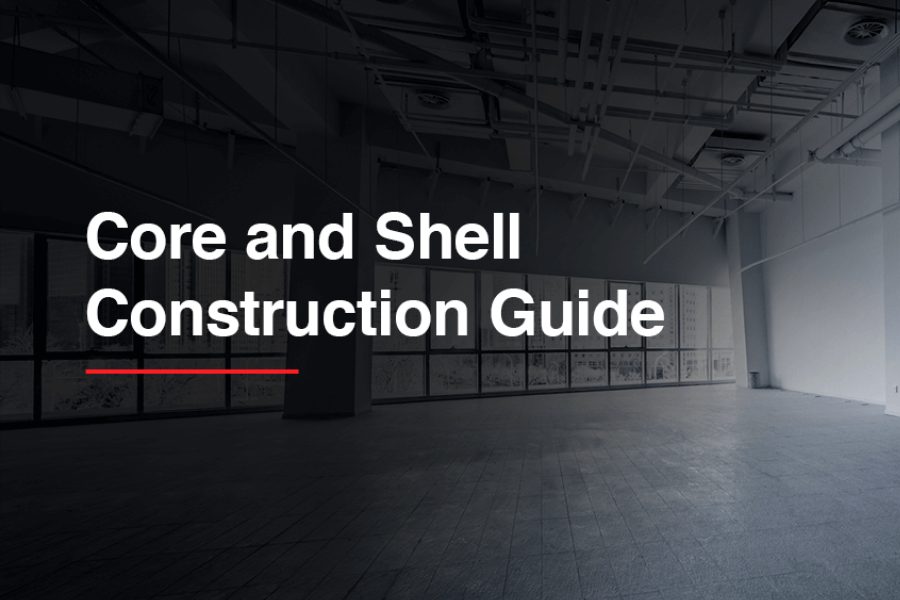 10/26/2021
Core and Shell Construction Guide
Core and shell construction is a commercial building technique that is cost-effective and convenient for developers, contractors and tenants alike. The concept refers to building only the base structures of commercial properties before the building is rented out to a tenant. Building core and shell has a range of benefits and provides you with plenty of options. Notably, landlords or commercial property owners can meet the needs of their tenants without wasting time, money or other resources. 
What Are Core and Shell Building Techniques?
Core and shell construction, sometimes called base build, is a building concept used primarily in commercial building construction. The term core and shell refers to the first phase of a commercial project where the basic inside, or core, and the outer building envelope, or shell, are constructed without adding things like furnishings, interior lighting fixtures, interior walls or ceilings.  
Since every tenant has a specific workspace or office space design requirement, building core and shell is a wise choice as it offers tenants a way to customize their spaces to meet their own unique business and working needs. The core and shell design concept was developed and originated in the United States to describe building only the basic building structure without interior design elements such as walls, appliances and ceilings. There are two separate elements to core and shell. 
Core and shell construction projects specify building certain structures and parts of a building. The different structures included in a core and shell design include only the basic elements of a building but can vary depending on a client's needs and specifications. Are you building a giant commercial skyscraper? Are you building a commercial storefront property meant for housing multiple businesses? Understanding the type of property you're developing is part of the core and shell design process.  
Different types of commercial properties have varying design and construction needs. Some may need elevator shafts, while others may require large parking lots and extensive landscaping. All of these are core and shell construction elements. The core is a building's interior base elements, while the shell refers to the various exterior base elements.  
The Core
The core of a building is its interior elements such as staircases, elevator shafts and pipes. You can consider the core of the building to be anything that connects the other spaces of the building or houses building elements, such as mechanical devices or wiring and pipes. 
Hardware essentials such as water pipes, electrical boxes and even toilets can be considered as part of the core of the building. Walls, appliances, ceilings and electrical outlets, on the other hand, are not considered as part of a building's core elements, but staircases and fire detection systems are.  
The Shell
The exterior elements, also known as the shell, cover the core of commercial buildings and properties. The shell of a building includes its exterior features, such as the structural skeleton and foundation and the external walls. The shell of a commercial property protects the core elements described above and is typically built during the first phase of construction. 
Shell-only construction is becoming more and more popular in commercial real estate and private development as it is both cost and labor-effective. Commercial property landlords and owners can offer fully customizable spaces to tenants at a more affordable price. 
What Structures Do They Include?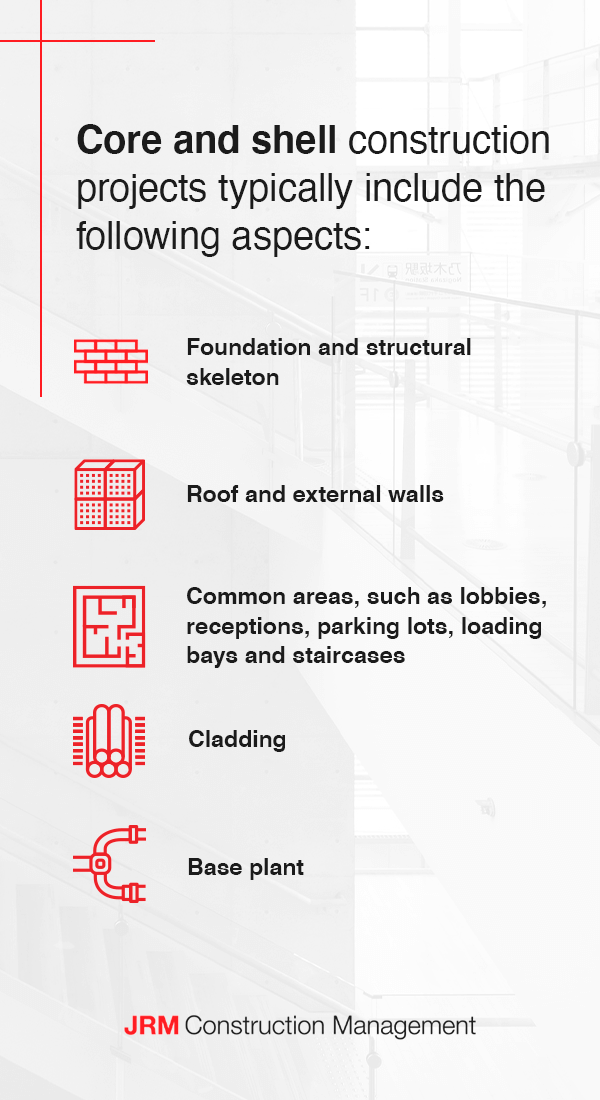 Core and shell construction can include a range of different commercial property appropriate structures, depending on their design and the demands of future tenants. Landlords can decide to build additional features and structures depending on the type of commercial property they'd like to offer. Core and shell design projects are fairly standard and straightforward in terms of the basic building and structural elements included in the work. 
Core and shell construction projects typically include the following aspects: 
Foundation and structural skeleton

Roof and external walls

Common areas, such as lobbies, receptions, parking lots, loading bays and staircases

Cladding

Base plant
As a landlord, constructing only the core and shell elements will offer potential tenants a fully customizable space. This saves you time and money in the long run as you aren't paying for any unnecessary construction, such as installing flooring, carpets and mechanical appliances that not all tenants will need or use. However, you may want to consider including some aspects into your core and shell design that is suitable and attractive for most tenants. 
Depending on the project, some core and shell construction designs include:
Landscaping including paved walkways, retaining walls and boundary walls

Fire sprinklers or detection systems

Mechanical or electrical services

Signage options

Parking lots
It's important to remember that all properties are built to meet different needs. However, landscaping and emergency fire systems are universal needs for any business and are typically part of the local building fire codes. 
That makes incorporating these aspects into a core and shell construction project a safe call for property owners and developers.
Once you build your core and shell, the fit-out process begins. A tenant will fit the space depending on which of the above elements you've incorporated into your core and shell build. 
What Is Involved in the Fit-Out Process?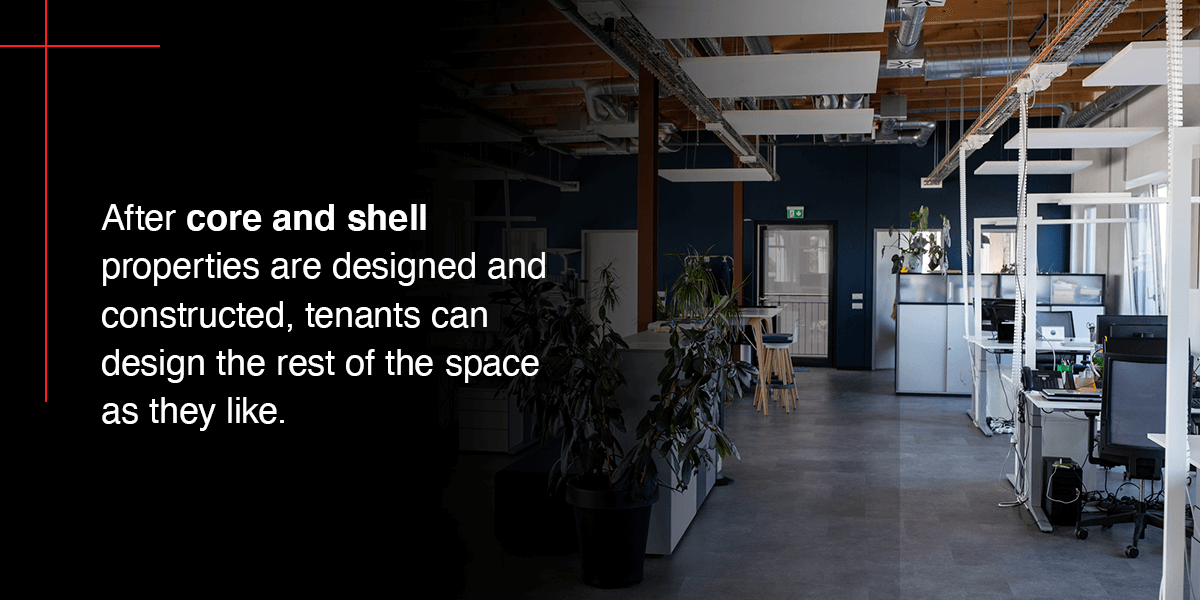 With a core and shell design, you're essentially providing your clients with a blank slate they can turn into an excellent work or office space that meets their business's needs and matches their unique specifications. After core and shell properties are designed and constructed, tenants can design the rest of the space as they like. The fit-out process involves making the inside of a core and shell building ready for a tenant to occupy it.
Core and shell construction allows tenants to fit out their commercial spaces as they see fit for conducting business. Before the recent popularization of core and shell construction, landlords and commercial property owners would complete the construction of a building, including most furnishings. This not only gets costly but can be very time-consuming as different tenants move in and out of your spaces. 
As a commercial property owner or developer, offering tenants a core and shell property relinquishes you from some of the cost and responsibility of further developing the space before renting it out. Fitting out the space for occupancy can mean different elements still need to be completed before the commercial area is ready to be used. 
There are two general types of core and shell fit-outs in commercial construction for possible tenants to consider. Depending on the client's needs, a core and shell project needs to be adequately finished with a type A and type B fit-out. Let's take a closer look. 
Type A Construction Fit-Outs 
Core and shell buildings are designed for either two types of fit-outs by a tenant. Type A or B fit-outs. There are no real standards that define core and shell construction elements, but type A fit-outs generally involve the following:
Raised floors

Ceilings

Light fixtures

Blinds

Carpeting
These items can be installed or purchased and left stacked and ready to be installed by tenants or developers.   
Type B Construction Fit-Outs
The tenant chooses and completes every element with a type B fit-out, not a developer or landlord. A type B fit-out includes leaving the tenant with an empty space to complete some or all of the following build elements:
Kitchens

Office space

Reception and lobby areas

Meeting and conference rooms
Fit-Out Expenses
A building that is entirely ready to be occupied and used is a completed fit-out. These are already complete with everything a tenant needs to conduct business in a commercial space.
As a property manager, developer or owner, you'll want to develop specific language in your leases and contracts that thoroughly explains the fit-out responsibilities and expectations you have of your tenants and yourself. You can choose to design and build a core and shell to accommodate tenants who need certain types of fit-outs. An example would be building core and shell properties aimed directly at tenants with specific needs, such as restaurants or office spaces.  
It is relatively common for landlords and developers to purchase the materials needed to complete a fit-out and leave them for tenants to install on their own. This can help tenants estimate a lower cost for renovations while letting them customize their space and use materials as they see fit. 
What Are the Benefits of Core and Shell Construction?
Core and shell construction is an attractive option for commercial buildings and properties for several reasons. Building core and shell has many advantages for all parties involved in a construction project, such as developers, landlords, contractors and even clients or tenants. Core and shell construction is excellent for large companies that might need several large-scale construction projects to expand operations or small and mid-sized businesses requiring customized workspaces.  
Your tenants or clients are going to have different needs for their work and office spaces. Core and shell construction offers them a way to customize their workspaces or offices without having to worry about incurring the costs associated with renovating an existing space. 
If you're unsure about whether or not core and shell construction is a good choice for you, consider these advantages and benefits:
Faster process: 

Core and shell construction offers you a faster design and construction process in general. The core and shell project can often get underway while the rest of the design details are worked on. This saves your project time and money since you can develop the core and shell to ensure the rest of your project is on time and budget. 

Energy efficiency: 

Core and shell projects allow for energy-efficient solutions to be built into the project or easily incorporated further down the line. This offers benefits for both current and future occupants of commercial space. Existing energy-efficient solutions make your commercial property an attractive option for potential occupants and can help as a selling point as new tenants come and go.  

Reduced waste:

 Buying and installing materials such as carpets, flooring, lighting and furnishings only to be torn out and thrown away is wasteful and costs a lot of time and money. Core and shell construction allows your tenants to fit out the space on an as-needed basis, reducing waste and costs. 

Design flexibility:

 Having flexibility in your design is a primary benefit to core and shell construction. The ability to create a customized work or office space from scratch is a crucial selling point for core and shell designs. Tenants have the freedom to build out the interior of a core and shell structure with their own unique needs in mind. This makes your commercial property an attractive option for potential occupants looking for a space they can make their own.   
One of the added benefits of core and shell construction is that occupants can customize interior spaces to fit their needs while not impacting the overall design of the building itself. The core and shell maintain their original designs while other aspects of the fit-out process are added to the space. 
Replacing walls, ceilings, interior doors, and other decor or furnishings will not affect the building's core and shell design. This makes renting the space out to new tenants much more manageable and cost-efficient. Your new occupants will not have the burden of renovating the entire structure to meet their needs and instead are only tasked with renovating an existing interior space. This will also help tenants stay safer throughout their renovation process. 
Contact JRM Construction Management for Your Core and Shell Construction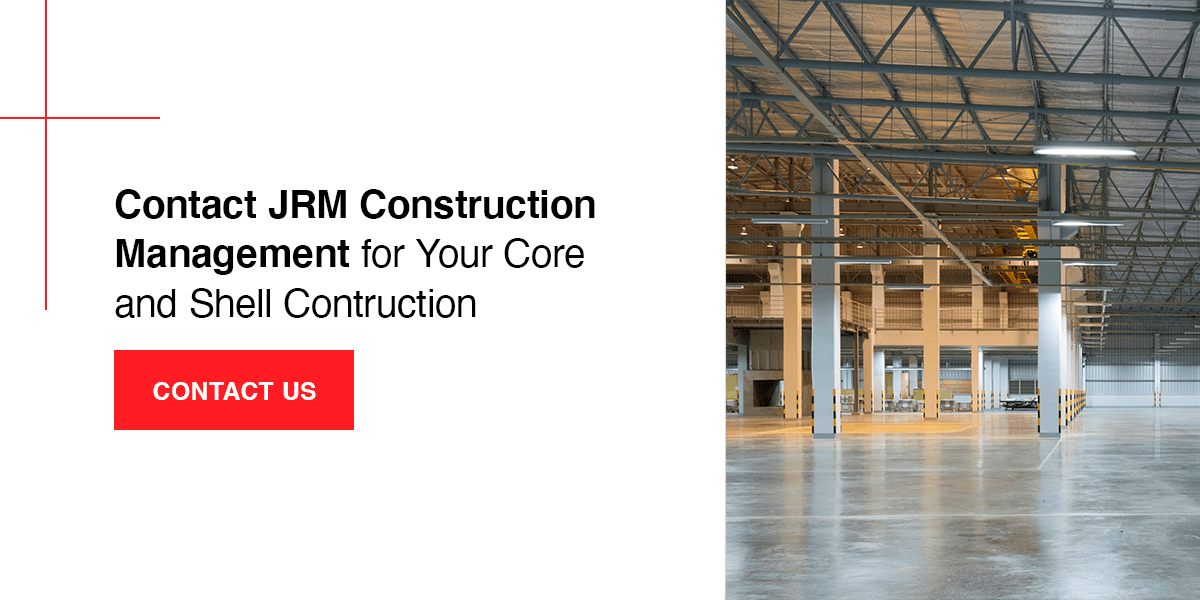 Building core and shell is an excellent option for commercial properties of all types and sizes. At JRM Construction Management, we're dedicated to providing solid construction and excellence in on-site management. Our design team works with you to meet your core and shell construction needs on time and within budget. 
JRM Construction Management proudly serves clients located in New York, New Jersey, California and all across the United States. Our team prides itself in delivering quality construction projects to our clients. Whether you're looking for a new core and shell construction or you want to upgrade the base building, JRM is the right choice for your next commercial building project. JRM Construction Management is dedicated to building on experience, building with integrity. 
Contact JRM Construction Management to start on your next commercial building project today!