news
Why Is Interior Design Important for Corporate Offices?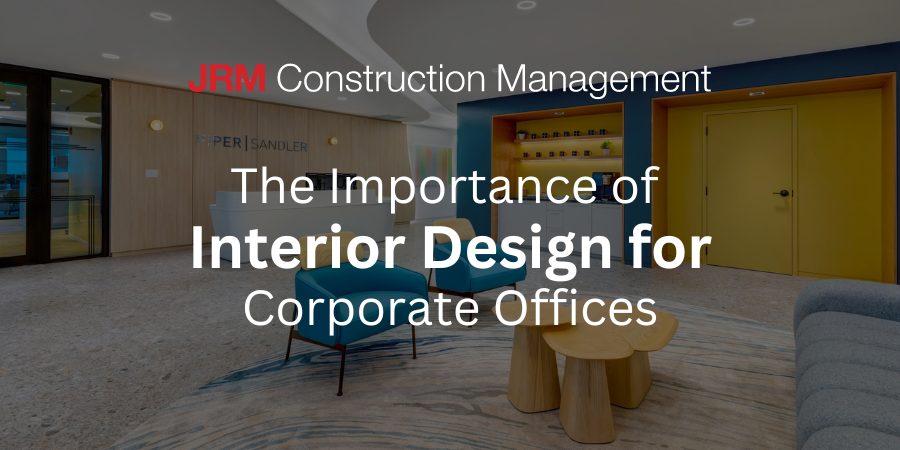 08/16/2023
Interior design in corporate spaces does more than look pretty. In fact, a good office design can enhance productivity and establish the right impression for any outside visitors. Most businesses outsource their interior design work because they understand its importance for both staff and clients. Hiring a professional like JRM Construction Management can introduce new solutions that assist in maximizing your profits and developing the ideal work environment for employees.
Client Benefits
Building a brand is all about appealing to your target audience. Even if it isn't common for clients and buyers to visit your corporate office, such occasions should be expected and prepared for when you begin construction and design. Think about it — what's the first thing you notice when you enter a store? Decor, color scheme and other interior design elements often determine whether you want to stay long enough to make a purchase.
For your clients, a well-designed office space:
Builds brand recognition: Every business has a brand, style, color, logo and more. Your office should reflect these, showing every entrant who you are and what you stand for. A well-designed interior that shows off your best parts will ensure your customers remember who you are and what you can do for them.
Establishes trust: A beautiful office space speaks volumes, just as a poor one does. Remodeling your office or building a new one lets you infuse modern style into your workplace, showing visitors that you stay up to date with the times and that they can trust you to take on their services with care.
Employee Benefits
Though much of a business's design and appeal is curated to draw in visitors, your employees will be subject to it more than anyone else. A good office design considers their needs and wants and delivers on them. Studies have shown that an intriguing work environment contributes to:
Improved productivity: Atmosphere contributes to mood, and when your staff is in a good mood, they can do better work. As working from home becomes more popular than ever, a stylish workplace that encourages collaboration may make your team think twice about wanting to make the switch.
Fewer sick days: Did you know that bad office design can actually make your employees sick? Bright lighting and overwhelming color design can lead to headaches, causing your employees to get less done in the office and take more days off. When you design your office to be more appealing to the eye, you can reduce instances of sudden absences that may put you behind on projects.
An optimized workspace: While interior design is certainly about making your space look good, it's also about helping said space be more efficient. The right office layout can encourage your staff to collaborate more on projects or keep them focused on their work, depending on your needs.
Get Started With JRM Construction Management
At JRM, our portfolio is full of corporate interior remodels that show you how we can make any space attractive to all. If you're exploring remodeling or building options to boost staff morale and draw in new deals, contact us today and start the journey to gaining more profit.