news
What Is VDC Construction?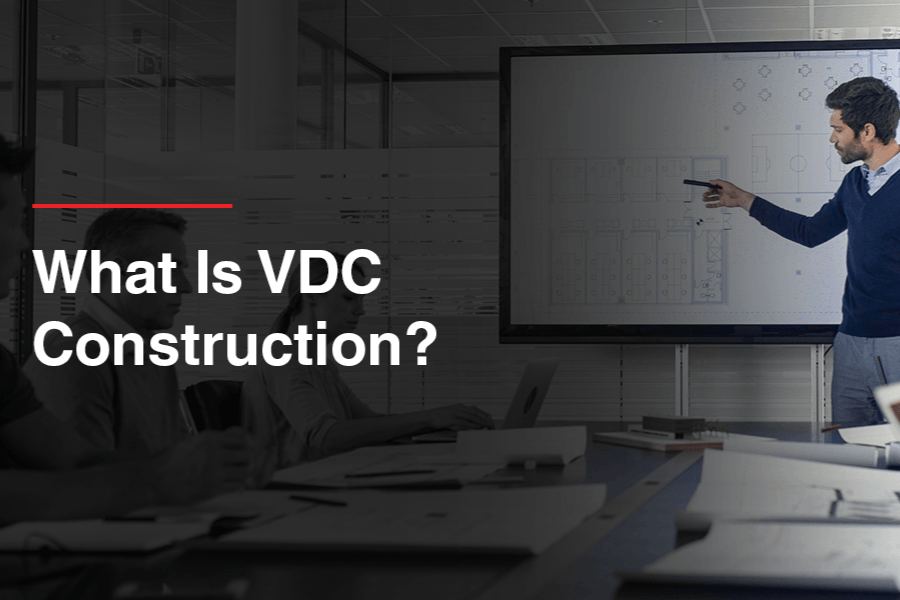 10/27/2021
What Is VDC Construction?
VDC is a strategy development process utilizing various performance models to simulate complex projects before breaking ground. By first modeling the project with key leaders and specialists, unforeseen challenges and errors can be identified and avoided in the real construction process.
When it comes to construction projects, any error can have large consequences for both the contractors and the client. An error could manifest as an oversight in safety protocol resulting from miscommunication or underestimation of how much of a certain material will be required. To reduce the chances of problems like these occurring, many contractors, engineers and architects have begun adopting Virtual Design and Construction (VDC) for complex projects.
What Are the Benefits of VDC?
Mapping out a project ahead of time using the VDC process allows teams to be on the same page about potential risks and necessary planning adjustments. VDC saves stakeholders time and money, makes the project safer, improves collaboration and furthers the quality of the end result.
Time and Money Saved
Management teams can develop more accurate approximations of the number of resources needed in a project. Knowing how many resources are needed means they will be less likely to face surprise costs and resource shortages, which will help prevent construction delays and their associated costs.
Because VDC is conducted on cutting-edge models, less time is spent on performing project kickoffs and more time can be dedicated to working with the operation's finances. VDC also promotes safety, which helps prevent potential injuries and legal issues and any resulting costs of these.
Safety Improvements
Hazards are a given for any complex construction initiative, but VDC can help management significantly mitigate the chances of their teams getting hurt. VDC models help key strategists visualize the workflow of the future construction project, which in turn lets them recognize potential hazards they might not have thought about.
VDC also uses a multidisciplinary approach within its performance models — all key team members can be on the same page about the project, drastically improving safety measures. Teams that want to further reduce risk can test potentially hazardous processes in real-world controlled environments to see their real effects without disrupting construction.
Enhanced Collaboration
When you have teams consisting of various specialties, there's a lot of potential for miscommunication. Fortunately, VDC models can incorporate these various specialties into their simulations so team members can properly understand ideas and receive important updates. The result? Enhanced coordination both on and off the worksite. Upgraded coordination will improve the project's workflow, thus reducing the risk of resource inefficiencies, project stalls and on-site injuries.
Furthered Quality
Since VDC helps management identify project errors ahead of time and improves resource management, the finished product's quality is furthered tremendously. Enhanced quality is a benefit both to management and the end-users who will utilize the space being created.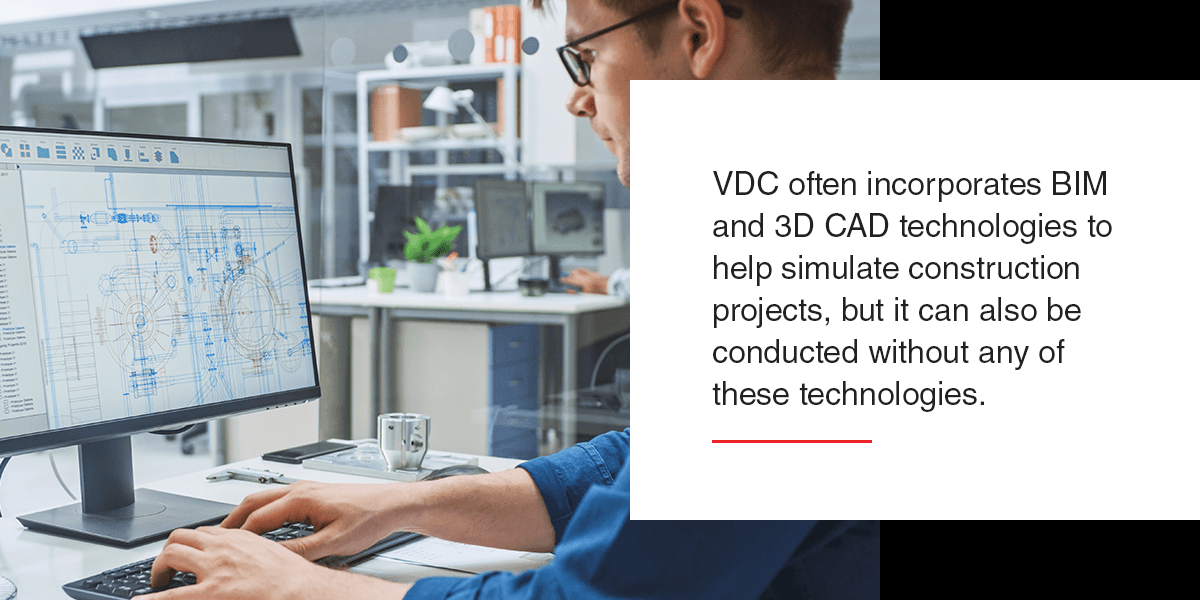 VDC's Relationship to BIM and 3D CAD
Many people mistakenly believe that VDC, Building Information Modeling (BIM) and 3D Computer-Aided Design (3D CAD), are all the same thing and can be referred to interchangeably. In reality, VDC may incorporate BIM and 3D CAD in the same way that time measurement may incorporate a clock or calendar.
VDC is a method of strategizing for your construction project. BIM is the mapping and simulating of buildings through software that facilitates collaborative work and utilizes real-world data. Some of the latest BIM platforms even incorporate cutting-edge video game software into their models, like the Unreal Engine.
In comparison, 3D CAD is somewhat similar to BIM in that they are both software processes resulting in 3D models of potential real-world objects. However, BIM is much better suited for complex projects involving large structures and buildings, while 3D CAD should be used primarily for modeling small objects and vehicles.
VDC often incorporates BIM and 3D CAD technologies to help simulate construction projects, but it can also be conducted without any of these technologies. This is because VDC is a strategy development process, not a software solution.
The Future of VDC
As more and more construction professionals adopt VDC into their construction workflows, there has been much speculation regarding how this will impact the construction industry overall. Some theorize that VDC will result in more construction occurring in off-site factories because of the increasing trend of prefabricated and modular construction.
People also expect that BIM technologies will incorporate even more technologies to create more accurate models, like drone imaging, laser scanning and energy modeling. As BIM technologies advance, VDC models become much more effective at estimating the logistics of complex project workflows.
An issue many construction firms may come across as they adopt VDC is a lack of understanding of how to best leverage the process and associated technologies. To make sure they're using VDC and VDC technology correctly, firms will have to understand how to derive valuable insights from BIM since it holds so much data. If firms are unable to derive valuable insights from this technology, they may have issues calculating the correct return on investment (ROI) of the process and technology since they aren't being fully utilized.
This concern is likely to be a rising issue amongst construction firms as VDC becomes the new standard of strategy development. If your firm is not knowledgeable about VDC and the technology it incorporates, it is wise to enlist the help of external VDC professionals like the ones on our VDC team here at JRM Construction Management.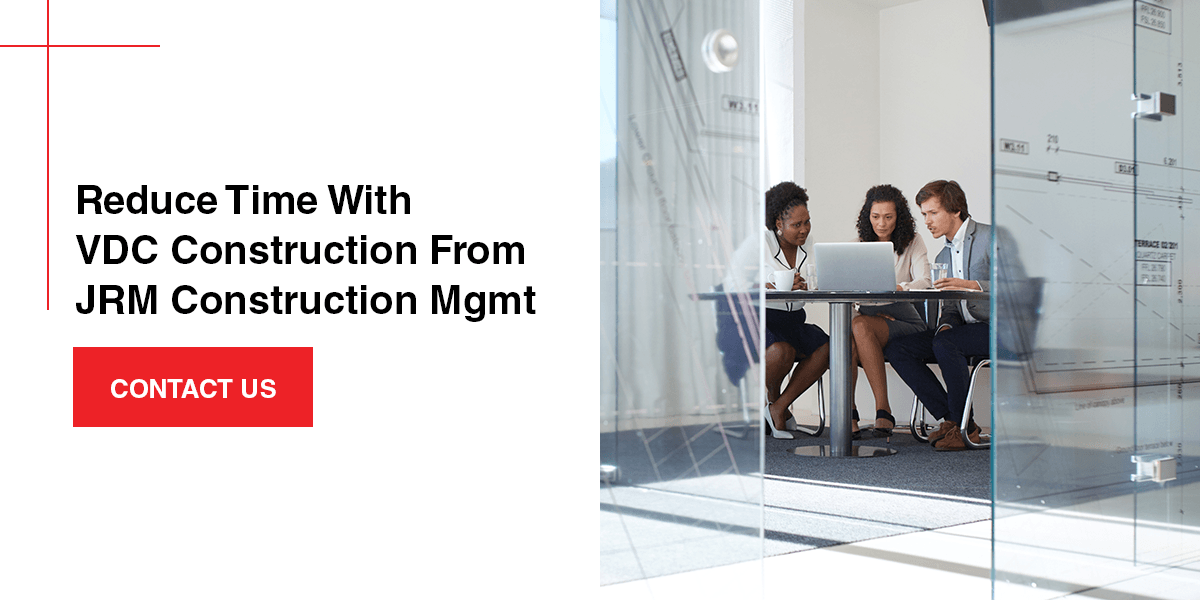 Reduce Time With VDC Construction From JRM Construction Mgmt
VDC has drastically improved how architects, contractors and engineers approach complex construction projects, so it's no surprise that this strategy development process has become a rising staple in the construction industry. When you start a new complex construction project, you should ensure you are putting your best foot forward.
The invaluable insight afforded by VDC makes construction jobs more efficient, cost-effective, safe, cohesive and successful overall. That's why we have a dedicated VDC team that leverages a wide range of digital tools to promote the efficiency and success of construction management and project build-out.
Here at JRM Construction Management, we provide advanced VDC services in New York City, New Jersey, California, Florida, and across the U.S. to improve your construction project outcomes. Our experienced team is known for delivering exceptional results on time and within budget. When you're ready to begin the strategy development process and hire a team to lead you through VDC, contact us to see how we can meet your needs.