news
What is a Design-Build Firm?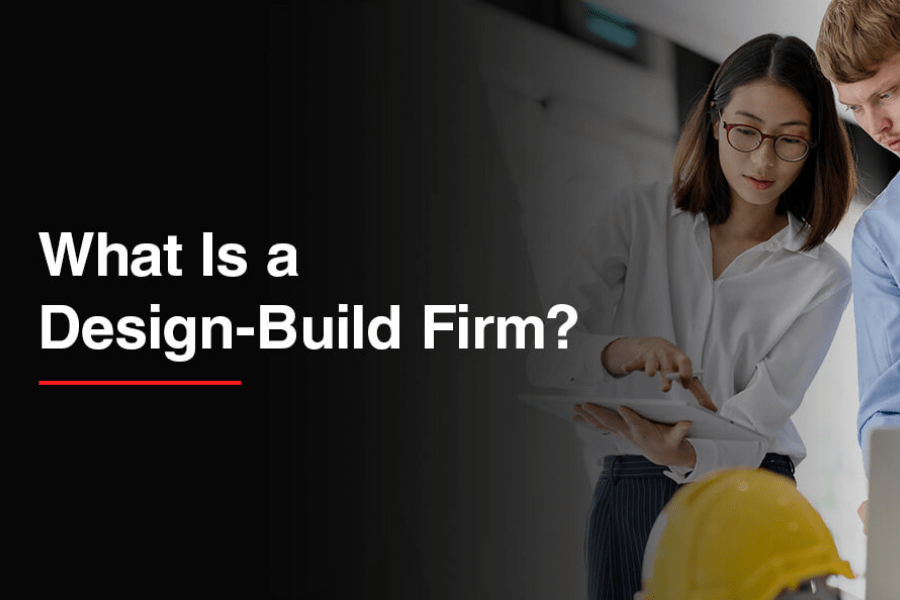 10/30/2021
What Is a Design-Build Firm?
The design-build method has become an increasingly popular and effective way of completing construction projects. Design-build firms operate under one contract with the project owner to complete both the design and build steps of a construction project. A single contract for both design and construction is what defines design-build methodology. This single contract streamlines the process while saving time and money for both the owner and the design-build team.
Learn how the design-build process works and why working with design-build companies is beneficial.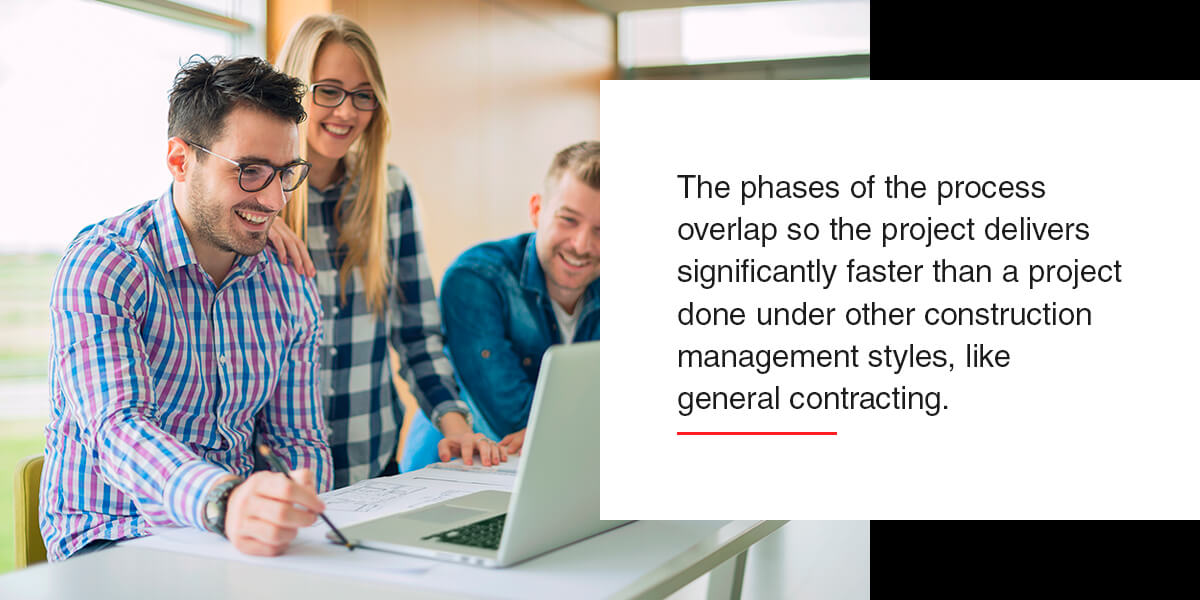 Design-Build Process
If you looked at a design-build flow chart, you'd see the process is straightforward. The phases of the process overlap so the project delivers significantly faster than a project done under other construction management styles, like general contracting. All the members of the team collaborate, which makes every aspect of the process more efficient.
1. Design-Builder Selection
Choosing a firm to work with is the first step. In any construction project, it's important to choose a team that you can trust to ensure the project is completed properly and the way you envisioned it.
This step will take some research on your part, as you'll want to find a firm with industry expertise and good credentials. Reading reviews and looking at a firm's previously completed projects and timelines can help you determine if they'll be a good fit for your project.
2. Preconstruction Planning and Project Proposal
The preparation step is equally as important as the physical construction, as it sets the course for the project as a whole. In this phase, the design-build firm will get to know your vision, goals, budget and needs. After getting to know your expectations, the team will develop drawings, estimate costs and build potential schedules to offer you in a design-build proposal. The firm will discuss the proposal with you and make changes as necessary.
During this stage, the construction and design teams will simultaneously begin conducting financial and site assessments to prepare a job site for preconstruction, construction or identify areas of need if you're improving a current space. Assessing sites before beginning construction allows the teams to prepare for any challenges that may arise so there are fewer setbacks in your project's timeline.
3. Architectural and Engineering Design
The design phase is where the construction team will partner with an architectural team to complete the final drawings. This aspect of the design and build approach benefits the project owner because the input of all team members results in more accurate drawings. More accurate designs can help lower the chance of changes or issues with the plans as construction begins.
During this step of the design-build process, the team will look for areas for cost savings and efficiency while still meeting your preferences and needs. Most design-build companies look for anywhere they can help add value to a project while trying to save the owner money.
4. Construction
In most cases, the construction phase can begin while the design phase is being completed. The construction team will prepare the job site and some elements of construction can begin while the designs are finalized. This process allows the teams to stick to a rigid schedule, completing the project quicker than in other methods. Early collaboration between architects and builders allows for a smoother construction process. Since all the workers are working on the same team and towards the same goal, communication is more effective and concerns can be addressed promptly.
5. Post-Construction
After construction wraps up, you'll have complete access to your new space, and the design-build organization will give you an overview of the project deliverables. This overview will mostly consist of documentation that the project has been completed and everything is signed off on. If the project was for a business, the post-construction phase might also include new training materials and walk-throughs for the owners and other management personnel.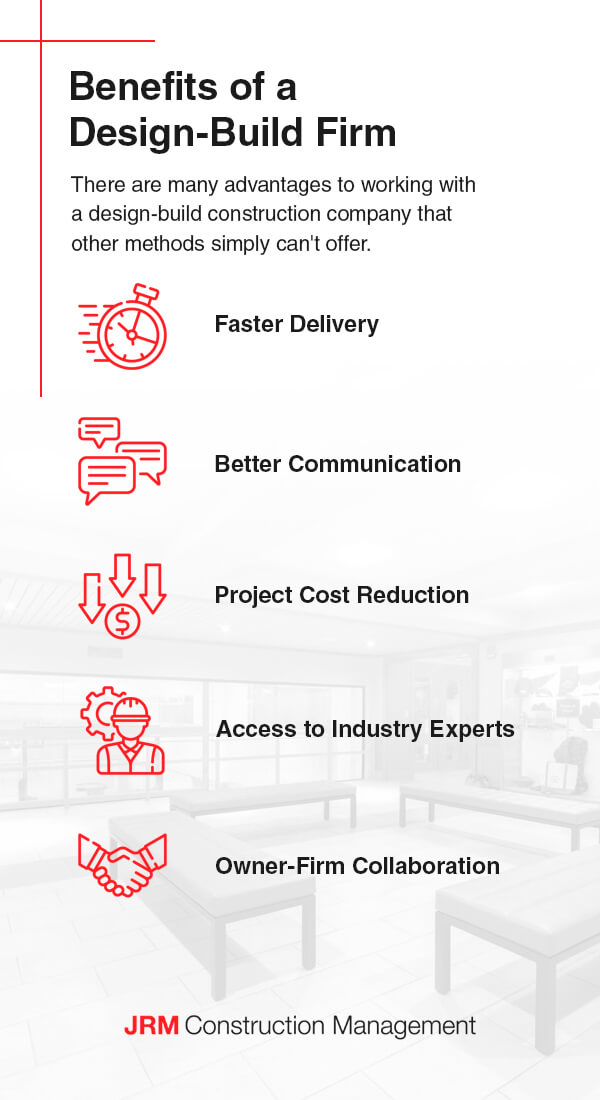 Benefits of a Design-Build Firm
There are many advantages to working with a design-build construction company that other methods simply can't offer. With the entire team under one contract, project owners will benefit from faster delivery, better communication, reduced costs and more.
Faster Delivery
One of the biggest benefits of choosing a design-build firm for your construction project is the fast delivery rate. Design and build construction projects are often delivered at a rate that's up to 102% faster than design-bid-build methods. In other construction methods, the design and construction processes happen separately through two or more different contractors. With the simplified firm selection process and simultaneous designing and building, project delivery happens much faster.
Better Communication
Having one entity — the design-build company — responsible for the project allows the process to run smoothly for both the project owner and the construction company. As the project owner, you'll only have to be in contact with one person instead of trying to juggle multiple contractors and architects. A single point of contact also keeps the design-builder accountable, as there is no one else to blame for setbacks or other conflicts.
Overall, when you work with design-builders, you'll experience fewer problems and no finger-pointing or blame. All the workers are under one contract, which means they're all working together to accomplish your project. The team-oriented approach results in more efficient communication and collaboration to solve problems quickly to reduce delays.
Project Cost Reduction
Design-builders give owners an estimated cost for the project early on in the process. A solid cost estimate helps you effectively plan for the financial aspects of a construction project and significantly reduces the risk of going over budget as construction progresses. An early estimate also helps keep the construction company from making large, costly changes in the middle of construction.
There is also potential for a design-builder to find you cost savings during the building process. The Design-Build Institute of America reports that design-build companies have 3.8% less cost growth than design-bid-build methods. Many design-build firms look for opportunities where alternate materials could be used to reduce costs. In general, mistakes happen as a result of miscommunication. The high level of communication among a design-build team leads to fewer design changes that need to be made as a result of mistakes.
Access to Industry Experts
When working with a design-build firm, you'll have access to industry experts that you won't find elsewhere. Design-build companies build their teams to include the top contractors, engineers and architects so your project can benefit from their skills and knowledge. Design-builders will often hire outside contractors to assist on the project if their teams lack knowledge in a certain area.
This process is beneficial to you as the owner because the construction company is finding the right person for the job instead of allowing an inexperienced worker to make a mistake that will likely cost you time and money. Better yet, the contracting goes through the firm, making it one less thing on your plate.
Owner-Firm Collaboration
As the owner of a construction project, your input should be a valued part of the construction process. When working with a design-build firm, you're seen as part of the team. Your input and ideas are highly considered when making project decisions. You have the opportunity to collaborate with the project managers and other members of the design-build team. By being involved with your project, you can ensure that your goals are met and the final product will be what you envisioned.
Design-Build Firms vs. Traditional Construction Companies
The process for working with a traditional construction company is quite different from working with a design-builder. The design-bid-build construction method includes the following steps:
The project owner must select an architect.
The architect designs the project and does the drawings.
The owner bids out the construction work to one or more contractors.
The contractors use the drawings to build the project.
Owners usually choose the lowest bidder in these situations in an attempt to save themselves money. Doing so often leads to a lack of specialized expertise on the construction site, which results in errors and miscommunication. Challenges like these can cause expensive changes and delays in the design and schedule. Architects and contractors often get into disputes and blame each other for setbacks. These methods are ineffective and can be a bigger headache than they're worth.
Design-Build Versatility
As construction projects become increasingly advanced and specialized, traditional construction companies and general contractors will become a thing of the past. Most projects require a robust team that specializes in multiple disciplines. This versatility is an element of a design-build firm that general contractors and other traditional construction methods generally lack. It's common for general contractors to need to hire subcontractors to complete aspects of a project. With additional contracts comes additional confusion, leaving more room for errors.
The design-build process is significantly more streamlined than a traditional construction company's process. The benefits of a design-builder make it easy to tell that they're far more efficient, responsible and desirable to work with in comparison to traditional construction companies. As a cohesive unit, the design-build team works from start to finish to find ways to efficiently and quickly move through the phases and find solutions that will be of best value to the owner.
Design-Build Transparency
Aside from the cost and time savings, one of the biggest differences of working with a design-build firm is the role you play as the owner. Despite being unprofessional and frustrating, workers from different teams will often fight and blame each other on job sites. When working with design-bid-build companies, it's common for owners to get stuck in the middle of an architect-contractor dispute. These disputes often lead to a loss of focus on the project, and the owner's needs can be overlooked for what the contractor wants to do.
When working with a design-builder, you can eliminate "mediation" from your to-do list. Design-builders value the inclusion of your design opinions and encourage you to become part of the team. The collaborative nature of design-build projects eliminates the big egos often associated with traditional construction companies. The design-build team is there for one reason — to complete your project to your satisfaction. Their transparency makes the process simple and successful.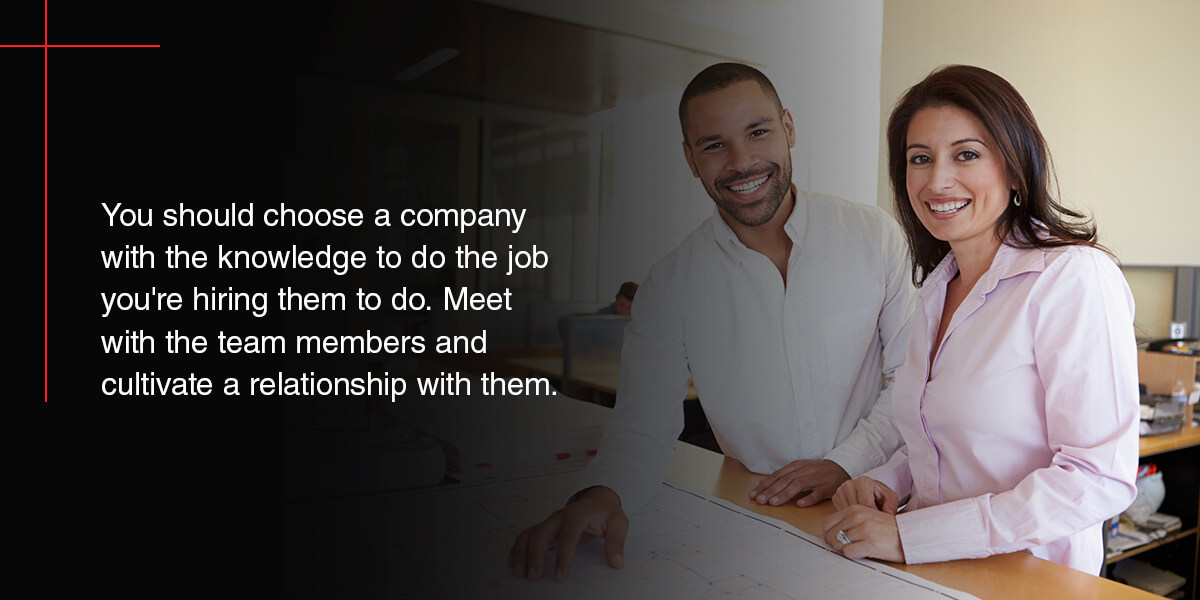 What to Look for in a Design-Build Firm
As we mentioned before, choosing the right team is critical for the success of a construction project. The design-build team you choose should ultimately be your partner throughout the project. So, what should you look for in a construction partner? To help you focus your search and find the best company for your job, we've compiled a list of traits to consider when choosing a design-builder.
Quality Team
The level of expertise that a team has is directly related to the success of your project and the amount of time and money you'll save. You should choose a company with the knowledge to do the job you're hiring them to do. While every firm can't be perfect or know everything, look for the closest thing possible. This includes considering your values and finding a firm whose values align with yours.
Meet with the team members and cultivate a relationship with them. Get to know the team you'll be working closely with so you can determine if you can trust them with your project. Keep looking until you find a team you mesh well with.
Low Call-Back Numbers
Call-backs occur when an owner requests that the construction company comes back to make repairs or fix mistakes after the post-construction phase. High call-back numbers can be a sign of low-quality work and often means that the company cut corners or put in less than their best effort. Low call-back numbers usually indicate the opposite and can be a sign of quality work that owners are satisfied with.
In addition to call-back numbers, consider these two safety figures:
Emergency modification rate (EMR): The EMR is a universal number that represents a construction company's degree of safety. The baseline score is 1.0. If a design-builder firm's rating is below 1.0, they're considered to be a safety-conscious company. Companies with lower ratings will also receive lower insurance premiums, allowing them to pass savings onto you. A rating higher than 1.0 indicates the company has a riskier safety record, and you should avoid these firms.
OSHA DART number: This figure stands for the number of days away, restricted or transferred. DART numbers measure the number of days the team had to miss work for injuries or other OSHA violations. Look for design-builders with low OSHA DART numbers.
In general, you should look for companies with low safety numbers to avoid putting yourself and the success of your project at risk.
Project Portfolio and References
As mentioned above, you should look into a company's project portfolio for projects that are similar to yours. This review will give you an idea of what to expect in terms of successes or shortcomings. Ask potential firms to provide a list of references so you can get a feel for what other project owners' experiences were. Quality design-builders will have an impressive portfolio and list of references for you to review.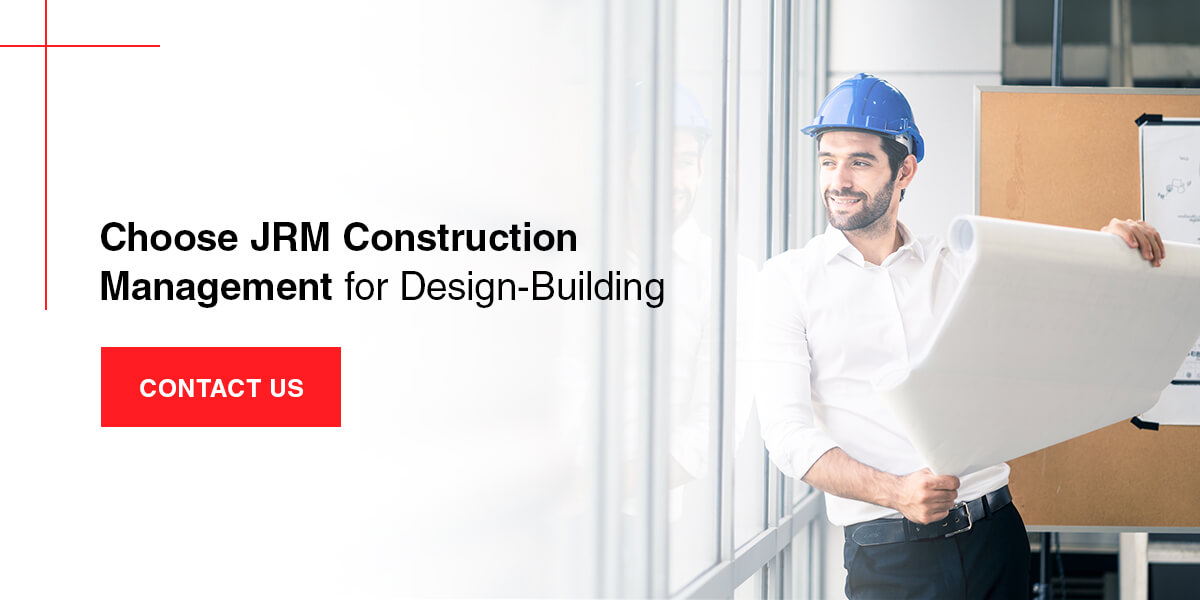 Choose JRM Construction Management for Design-Building
Design-building can be worthwhile when you partner with the right firm. At JRM, we partner with you to complete your project using your vision, from start to completion. We handle every step and keep you informed through all phases to ensure your project exceeds your expectations. Our team's expertise allows you to enjoy the process of seeing your project become a reality. Contact us for more information or to discuss a potential project!