news
JRM Partners With George To The Rescue To Renovate Young Quadriplegic's Long Island Home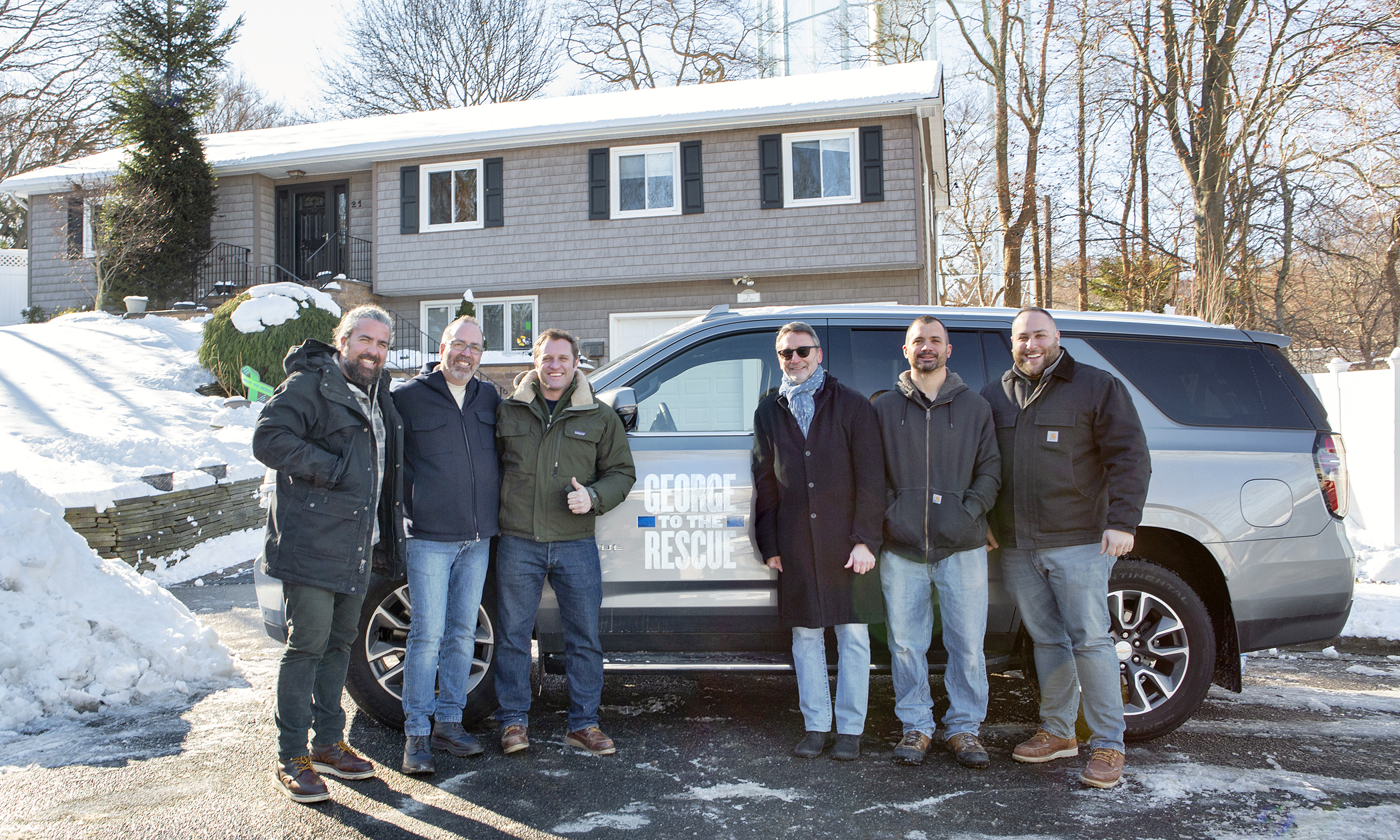 03/31/2022
Source: Newsday
In an episode set in Plainview airing Saturday at 9:30 a.m. and 7 p.m., WNBC/4's community-based renovation show "George to the Rescue" tackles what contractor-host George Oliphant calls "a herculean effort like nothing we've ever done before": transforming a split-level ranch house on a hill, with a steep driveway and 16 stairs to the front door, into a home with plenty of accessibility for a young quadriplegic woman in a wheelchair.
"We've never done anything to this scale," says Oliphant, 46, by phone. "This is the second elevator that we've put in," he offers by way of example. "I've done a lot of 'George to the Rescue's, almost 140, and what Joe [Romano of JRM Construction Management, the episode's renovation partner] did with his team wasn't just on the inside, but on the outside as well. We literally moved boulders," he marvels.
The home is that of Syosset attorney Scott Koltun, his registered-dietician wife Audrey and their daughter Rebecca, who in March of last year at age 21 — while a senior at Binghamton University — suffered a skiing accident at Stratton Mountain in Vermont that paralyzed her from the neck down.
"Christopher Reeve had the same injury," says Scott Koltun, 62, referring to the famed late actor whose spinal damage after a 1995 equestrian accident left him a quadriplegic until his death nine years later. Like Reeve, Rebecca "was not affected cognitively," her father says, "Her brain is 100% there." Unlike Reeve, who relied on a ventilator to breathe, "Rebecca does not, in part because of her determination and in part because of this invention called the diaphragmatic pacer. It's an electronic implant that contracts her diaphragm for her."
Construction technology has advanced as well, says Oliphant, who recalls that for a 2011 episode featuring a young North Carolina paraplegic, "The elevator that we put in was like a traditional elevator that you would have in an apartment building, where we had to build a whole foundation in the garage and put in a shaft and all that stuff. But with the one we did for Rebecca, this is a beautiful glass elevator that we were able to put on the wall." And aside from whatever work was needed to install a motor and other mechanics, he says, "We literally just cut a hole in their ceiling."
Beyond such utilitarian renovations, the project also was designed "to give Rebecca as much independence as humanly possible," Oliphant says. "We wanted to give her space where she can be with her friends and away from her parents. And we made sure the entire house was set up so that Rebecca can get around and the family feels comfortable. She has her privacy and independence but also space where they can all be together."
Even with the show's donated materials and labor, however, the cost of Rebecca's care "will likely exceed $1 million in out-of-pocket expenses," according to a crowdfunder at helphopelive.org/campaign/18533/. While attorney Scott Koltun happens to specialize in insurance and liability law, even he has found the insurance process daunting.
"The fundraising is necessary because the insurance companies that benefit someone like Rebecca are very reticent to provide [the coverage for] the care she needs," he says. "Their business is, they don't give up anything unless they're pushed."