news
JRM Construction Management Completes Full Tenant Buildout for Blue Bottle Coffee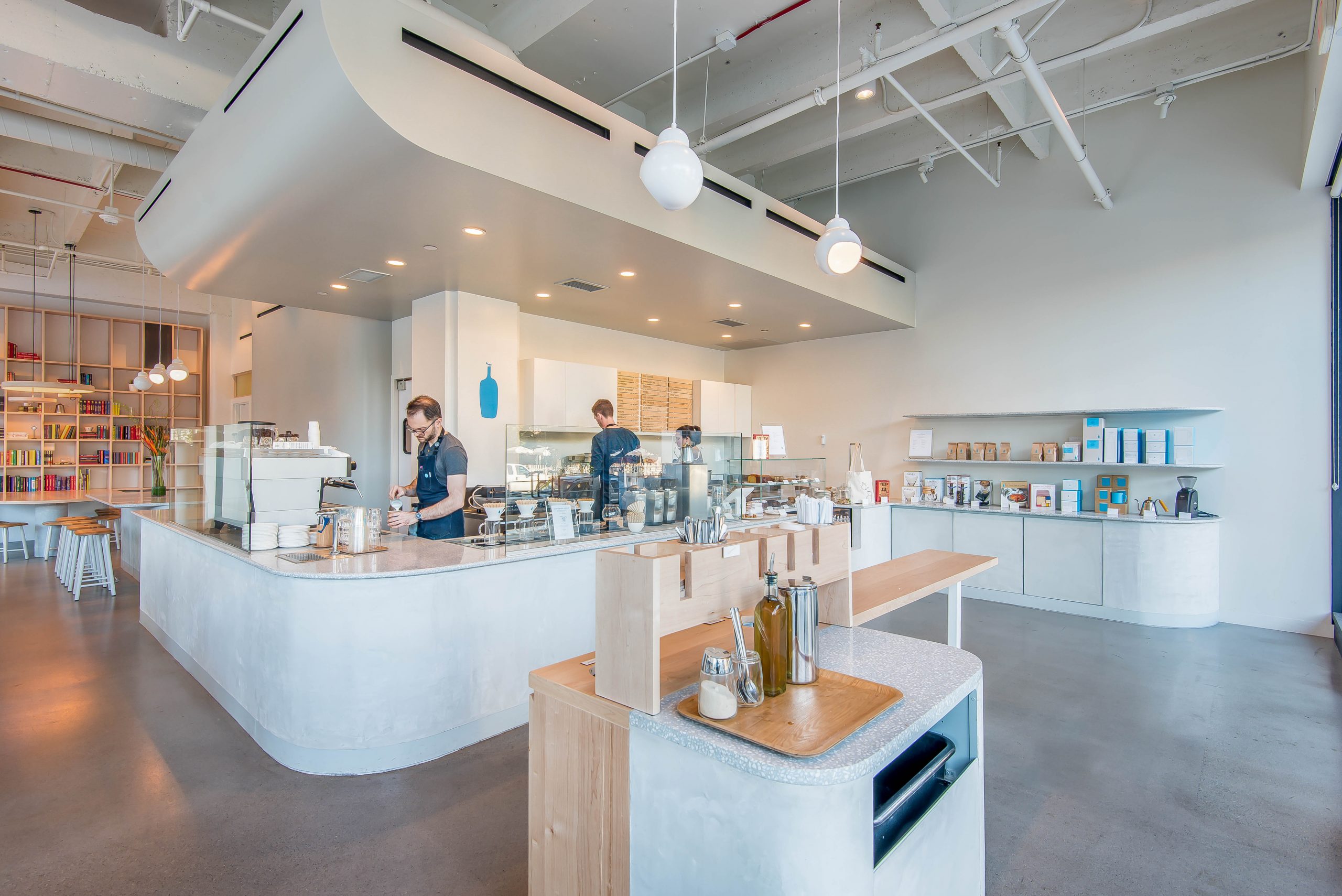 06/04/2018
Source: CityBizList
JRM Construction West JRM is pleased to announce that it has completed a tenant buildout for Blue Bottle Coffee at the Robertson Plaza building in Los Angeles, California. JRM worked closely with the team from Loc Associates, who served as the owner's representative on behalf of Robertson Properties and Architect Ryan Upton of Wrk-Shp to deliver the 1,500 SF retail space, complete with fine, delicate finishes and high-end coffee equipment throughout.
Designed with Consumers in Mind
The unique, clean design of the new space features wide open ceilings which bend upwards and are complimented by curved walls. The shop is furnished with suspended pendant lights, polished terrazzo counter tops & shelving units, plastered cabinets, an oak bookshelf, and oak seating areas. The serving bar boasts stainless steel countertops and state-of-the-art coffee equipment.
Given Blue Bottle Coffee's growing popularity, creating a positive consumer experience was an important element of the project's overall success. To achieve this,in addition to the aesthetically pleasing design and comfortable seating areas, the JRM team installed a lighting system which can be programmed to suit customer desires.
"The vision for this project was to create an ambiance in line with the quality of the product," said JRM Principal and Project Director Marty Gilbert. "Blue Bottle Coffee is one of the most beloved coffee brands in the country and we are very pleased to be able to deliver this new location for their growing consumer base to enjoy."
No Cutting Corners
The decision to use high-quality materials required precise planning and execution from JRM. In installing the terrazzo counter tops, JRM anticipated the long lead times and planned ahead to allow for time to have the materials cut to suit the measurements of the custom counters, without hindering the project schedule. The team also worked diligently to adhere to strict health conditions in order to pass inspection, understanding the necessity of these criteria for the project's success. The result of this dedication is a final product that is both beautiful and functional, completed on time and within budget.