news
JRM Construction Announces Completion of One World Observatory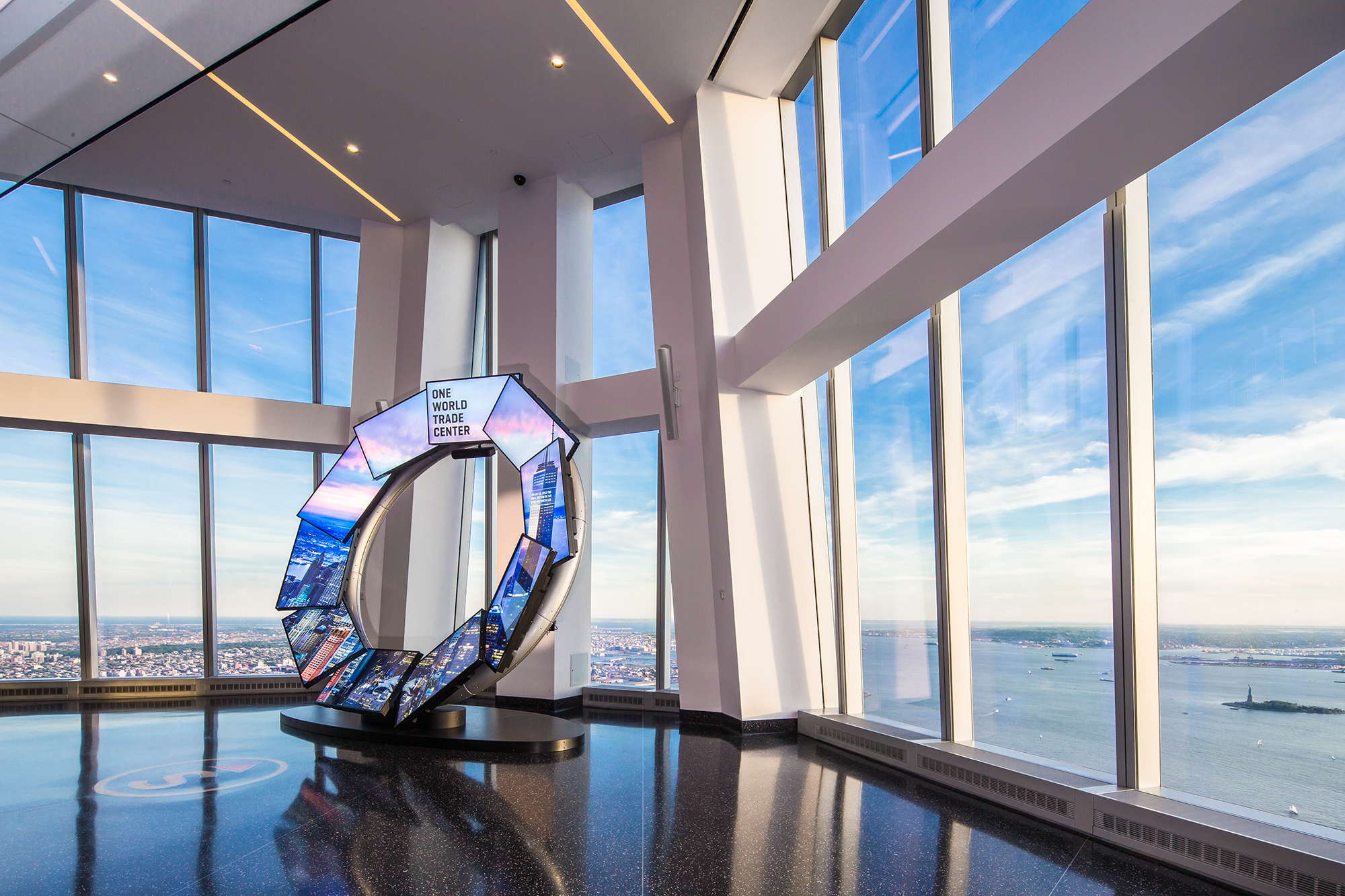 07/17/2015
JRM is pleased to announce the delivery of One World Observatory (OWO) at One World Trade Center in New York City. The $36 million project encompassed new construction of the 75,000 square foot deck Observatory located on floors 100-102 of One World Trade Center. Built on the former site of the Twin Towers, the Observatory is perched skyward on the top three floors of the 1,776 foot skyscraper, making it the tallest building in the western hemisphere. As a world-class attraction rooted deep in history and finished with many first-time features, One World Observatory embodies an incredible story that is now open to the public.
Engaged early in the design process, JRM acted as design-builder leading a collaborative team of designers, consultants, and co contractors in uniquely specialized designs and construction services. JRM's design phase expertise, including scheduling, cost estimating, and value engineering, served as an integral support to the designers and consultants in establishing a clear, critical path flow.
Once on-site construction began in May 2014, JRM coordinated and managed construction of the facility and infrastructure delivering a turnkey product earlier this year. Working alongside developers Legends Hospitality LLC, attraction designers The Hettema Group, architects Montroy Andersen DeMarco, and AMA consulting engineers; JRM seamlessly transitioned OWO project from paramount facility construction to installation of sophisticated audiovisual content and presentation.
Designed as a forward-thinking attraction, OWO harmoniously composes cutting edge digital technology with modernistic design finishes. Five state-of-the-art elevators fabricated with screen simulations take patrons on a virtually stimulating journey to the 100th floor in a record 60 seconds, while a one-of-a-kind Sky Portal on the main Observation deck invites guests to see real-time, high-definition footage on the streets 100 floors below. The Observatory's See Forever Theatre features movable 3D screens that impress arriving visitors with a pre-tour presentation before exploring the deck's breathtaking, panoramic views of the New York skyline.
Other hallmark characteristics prominent throughout the Observatory include the detailed custom millwork, serving as an acoustic absorption barrier, as well as the custom Terrazzo flooring. Dining options, located on the 101st floor, range from a full-service bar for fast-casual seating, a Grab-N-Go station, to a high-end steak house. The Observatory dining facility is fashioned with a professional full-service kitchen servicing all three dining varieties, custom wood ceilings throughout the bar and banquet seating areas, exclusive event spaces, as well as all new MEPS.