news
JRM Completes URBO Restaurant in Times Square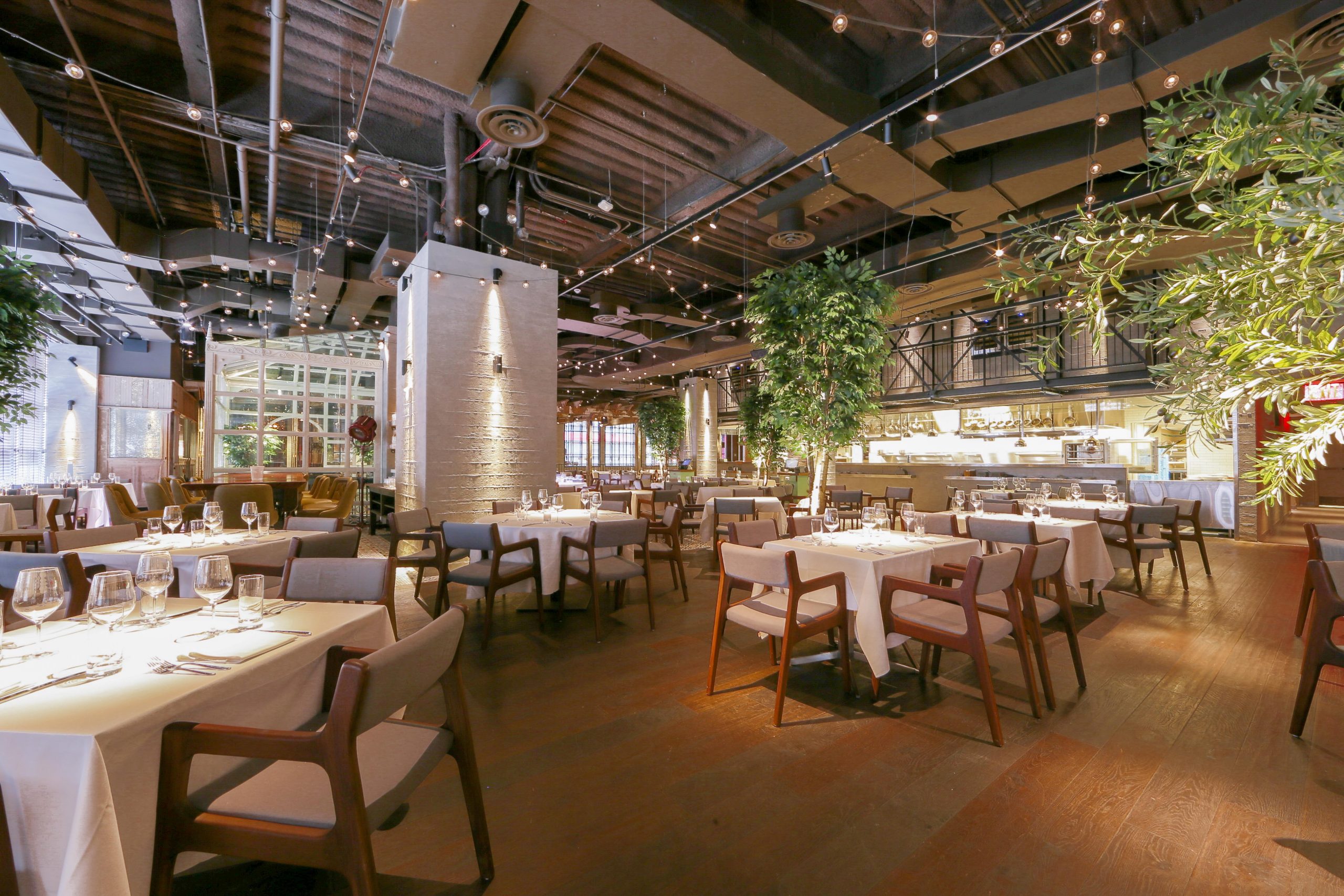 08/25/2014
Source: Honest Buildings Insight
Fresh on New York's dining scene is URBO – a portmanteau of 'urban' and 'bohemian', taking atmospheric cues from "the trendy melting pot known as Brooklyn." A multi-story culinary experience, the project's inherent complexity demanded exhaustive attention to detail and the utmost confidence with every aspect of construction and design. The brainchild of Eugene Kadomskiy, a 39-year-old entrepreneur with over 70 restaurants in his native Russia, URBO marks his first venture into New York City's notoriously fickle hospitality business – and comes complete with its own set of stringent requirements. General contractors JRM helmed the project, based in central Manhattan at 11 Times Square. Completed over 30 weeks, construction was recently wrapped up on July 1.
The client requested a space that turned the restaurant experience on its head – where diners could immediately look at the space from the chef's perspective. A glass elevator opens into the restaurant section on the second floor, enveloped by the fragrances of the restaurant's wares and an instant look of the commercial kitchen in action – a well-oiled machine that patrons typically don't see at such a large scale. Design and construction flourishes continue throughout the ample floor space (around 26,000 square feet), including 156 drains and a dedicated HVAC system. The restaurant's walls are accented by reclaimed wood and a concrete stamp plank, contributing to the on-trend industrial feel of the interiors.
URBO's key point of difference is the quality of the food, with the client striving for a high-end culinary experience in an area of Manhattan dominated by fast-food and chain restaurants. The construction followed this lead, with five kitchens and three bars included to equip the space with sufficient food and drink preparation areas. The kitchens required extensive millwork, redone flooring, and the installation of Lutron, Barbizon and Kinetic theatrical lighting systems for an optimal work environment, while a grill with flames that reach up to two and half feet adds to both the spectacle and flavor profile of grilled meals. Further, demolition of a concrete deck made way for stair and elevator openings, HVAC ducts, and easy removal of steel beams. Suspended 'catwalks' are modeled in the vein of fire escapes for a unique mezzanine level, lending to the playful warehouse aesthetic.
Up-cycled materials feature prominently throughout the space, with reclaimed windows and a repurposed Brooklyn fire escape incorporated in the edgy design. However, the most unique of the reclaimed features is arguably the wooden water tower – courtesy of New York's famed Rosenwach company – that stands tall beneath the restaurant's floating 21-foot ceilings. The reclaimed theme continues to the raw bar, fitted with distressed wooden panels and customized 2 inch-edged stone tops. Positioned to welcome the natural flow and foot traffic of the visiting crowd, the raw bar is just one stop on the circuit: a pasta bar and garden area also feature.
Despite an on-trend, industrial vibe echoing through the space, antique furnishings lend sumptuous touches to balance the aesthetic. Custom fabric drapes "create elegance, richness and seamless separation within the space," said JRM's Project Director, Robert Rydstrom, while antique chandeliers and beveled mirror contribute to the plush feel soon to be synonymous with URBO. In the main restaurant, custom-designed wooden blinds simulate nightfall, building ambience and atmosphere no matter the time.
Comprised of URBO Kitchens, URBO Supply and URBO Grind, the complex includes not just the restaurant, but artisanal retail and coffee outlets. URBO Grind, the boutique coffee house, is fitted with antique windows and a barn-style door crafted from distressed milkshake wood. The complex also features Bar URBO, a cabaret bar with a hidden stage, and URBO Loft, a reservation-only restaurant based on the uppermost floor. A space designed for exclusivity and extravagance, URBO Loft's crowning glory is a private glass solarium dining room that JRM's Chloe Johnson describes as "a chic, terrace-esque indoor garden space complete with greenery, a chandelier, and twinkling festoon lights across the entire ceiling."
Indeed, the project was an all-hands-on-deck effort from conception right through to completion – which, including construction, took roughly two years. The end result, however, is a restaurant that knows how to do spectacle just right, combining Russian extravagance with New York flair for an entirely unique Times Square experience.