news
Etsy Named Among COTE® Top Ten Awards For Sustainable Design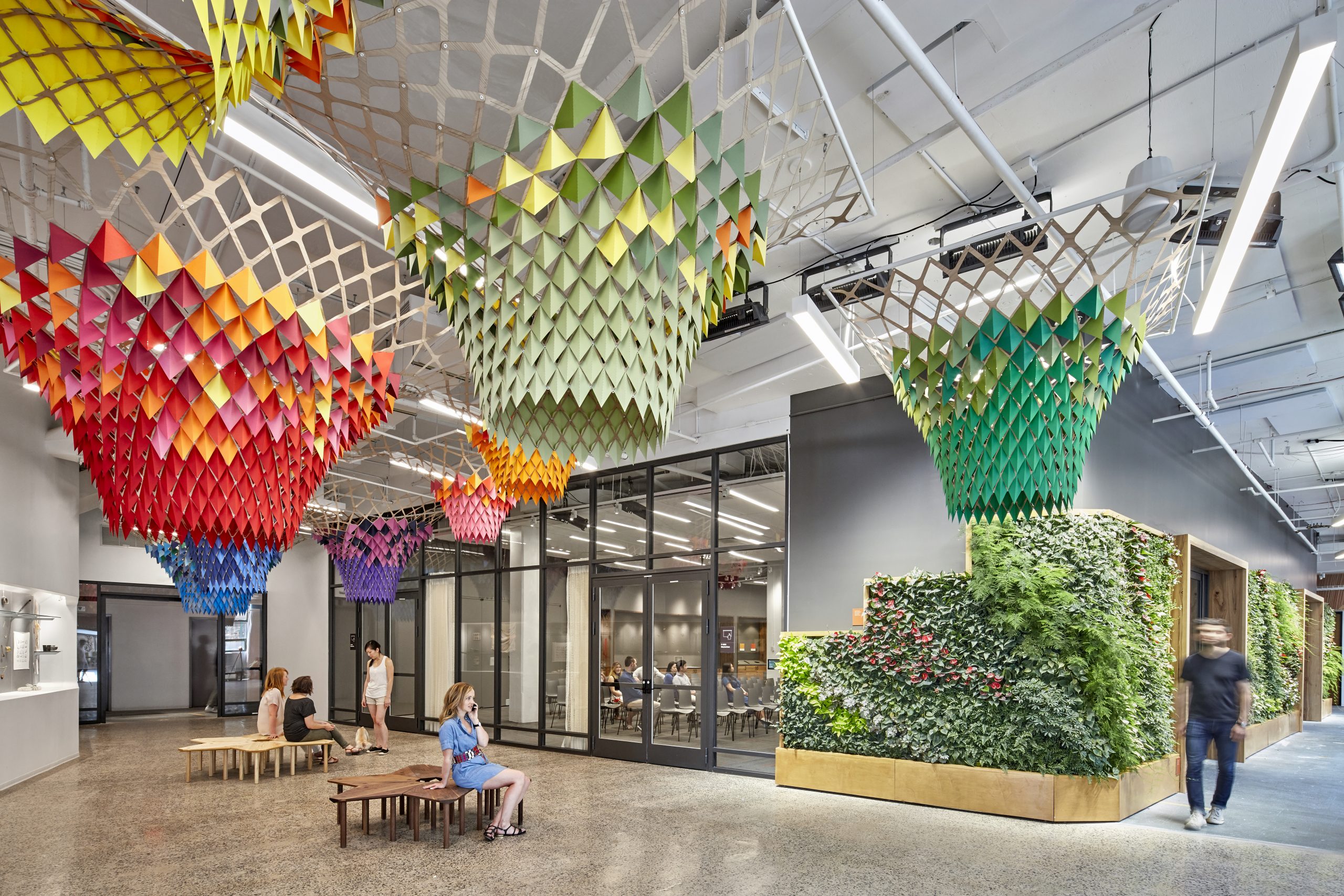 11/18/2020
Source: Gensler
JRM's Etsy project was named among the 2020 American Institute of Architects Committee on the Environment (COTE) Top Ten Awards for sustainable design.
The 200,000-square-foot Etsy headquarters, located in a former printing press in Brooklyn was designed to celebrate the maker community, incorporate biophilic design principles, and maximize the long-term health of the company, its employees, the community, and the larger ecosystem. Following extensive sustainability efforts, the project ultimately achieved the Living Building Challenge (LBC) Petal Certification.
Gensler helped Etsy meet its ambitious sustainability goals both through intelligent design and thoughtful use of materials, which required the team to vet more than 1,500 design sources to ensure they did not contain harmful or toxic chemicals. Additionally, the space uses wood that was invasive, salvaged, reused, or sourced from responsibly managed forests.
Low flow and flush fixtures and a 3,500-gallon rainwater tank help support the building's extensive interior greenery program, which includes thousands of plants, three green walls, and three terraces of outdoor plants. High-efficiency light fixtures and daylight controls contribute to energy savings, and onsite and offsite solar arrays provide 100% of the building's power from renewable sources.
The project also fosters a connection with the surrounding Dumbo neighborhood and features over 750 pieces that were crafted by local makers and artists. Etsy's headquarters design pushes the envelope in terms of performance and aesthetic, using the power of design to celebrate the art of making, bring the brand's story to life, showcase sustainable, authentic, and locally sourced materials, and promote wellbeing and connectivity for employees and the community at large.
"Everything about the inhabitants, the building, and the use of the space are involved in the investment in sustainability as a way of life," the AIA COTE jury noted. "This project is a celebration of health and craft and takes an existing fabric and transforms it into something more rewarding."
As the largest Living Building Challenge Petal-Certified Building in New York City, Etsy's home sets a new standard for the company whose mission is to "keep commerce human."